MEMORABLE GIFTING
The coming together of family & friends after a long time, unforgettable sangeet performances, unlimited photo sessions and emotional bidais. Keep the memories of your wedding alive by gifting your loved ones a luxurious AMYRA bag that will take them back in time with every use.
Infuse your celebration of love with the most luxurious gifts for your wedding guests. This is a perfect note of thanks to everyone who made it to your special day. Having done grand weddings across the globe we at AMYRA have curated a vibrant selection of our most loved styles for you to choose from.
what we offer
Tailor your presentation to match the occasion and enhance the joy of gift-giving. You can choose a stylish carry bag, an exquisite box, or even a protective and elegant dust bag.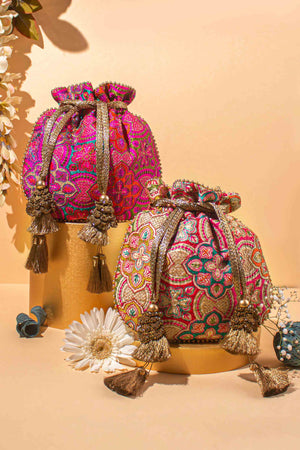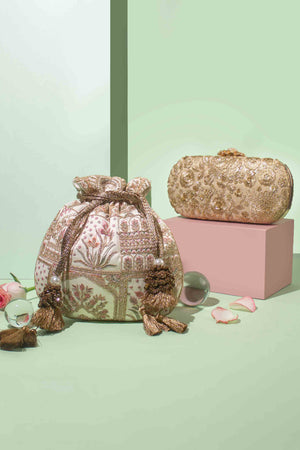 MIX & MATCH STYLES UNDER 2999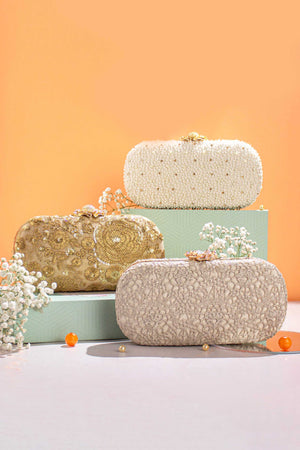 CLUTCHES FROM 2499 ONWARDS
START PLANNING
Shop our curated wedding favors online
OR
Click below button to chat with us on whatsapp to customize your gifts
★★★★★

I had ordered AMYRA's potli bags and clutches as wedding favours for my son's wedding guests. They were extremely helpful from the word go.. helped me in selection with useful suggestions for variety and delivered on time and in excellent packaging that ensured that bags were in a "ready to gift" condition. All the guests really appreciated the classy execution of the bags:) Thanks Priyanka and team AMYRA. We wish you the very best and would definitely recommend AMYRA's products for their classy elegant and ethnic touch to your celebrations.

SAROJA KANNAN
★★★★★

"I had ordered around 150 potlis from Amrya as wedding favors. Priyanka was very prompt and professional. She delivered great quality and beautiful bags in time. I would definitely recommend her and my guests loved the bags.

LIKHITA NIMMAGADDA
★★★★★

I ordered clutches from AMYRA as gifts for guests at my reception. They have very good quality products and their packaging is lovely. Priyanka is extremely helpful and professional. Would totally recommend AMYRA to everyone!

DEBANJANA GUHA
★★★★★

I ordered some clutches from AMYRA as wedding favors for my friends and family. They were absolutely lovely. Beautiful designs and great colours. Love their pastel collections. They customise the size, shape and fabric of the clutches/bags according to your requirements. Priyanka went out of the way to source some fabric for me & that too during the lockdown. Stunning collection and if you're looking for favors for your wedding, then I highly recommend that you buy it from here:)

NEHA MURTHY
★★★★★

I came across AMYRA through their ads on Instagram and I loved the designs instantly. The fact that they offered COD made me feel more confident to try out a brand from online that I had no experience with. You hear about so many scams, and I normally don't order from online if I don't know the company. Within three days I got my bag and it was lovely as in the picture. I found more designs I liked and contacted them over Instagram messenger. Priyanka, who runs the business answered me within a few hours and made it possible for me to get a few more potlis that were not available for sale on the website, one even custom made. Everything happened within days. She is extremely efficient, approachable and very nice! I am impressed by the efficiency and I love the elegant and classy designs that even go with casual clothes. The finishing is very good and the quality seems to be good too. The materials are high-quality. Very much recommend!

G A GOPAL
★★★★★

I ordered a bunch of AMYRA potlis as favors and loved them! The quality of detailing and finishing was very good. They were even ready to customize them as per my requirements and Priyanka was very helpful with ideas and prompt with her responses. Delivery was done within 3 days! All in all, a great value!

NIDHI JAYASHANKAR
★★★★★

I look forward to buying AMYRA potlis and clutches,to match my outfits. They surely enhance the look, with fine fabric and meticulous craftmaship. The potlis and clutches are so handy and a flexible to style with various outfits. I have great regards for their professional approach, customer care and the attention to detail.

HEMA RUKMANI
★★★★★

My mother-in-law gifted me a bag from AMYRA, which was beautiful, with a great finish. I carried it with me for my wedding reception because it looked great and was handy to keep all my required touch up items.

ALISHA ASHTA